How To Print A Flag
If you need to Print A Flag for any kind of event or celebration and are wondering where to start, we have the answers! We will explain the types of Flags available, how to design them and how to easily order them at awesome trade prices.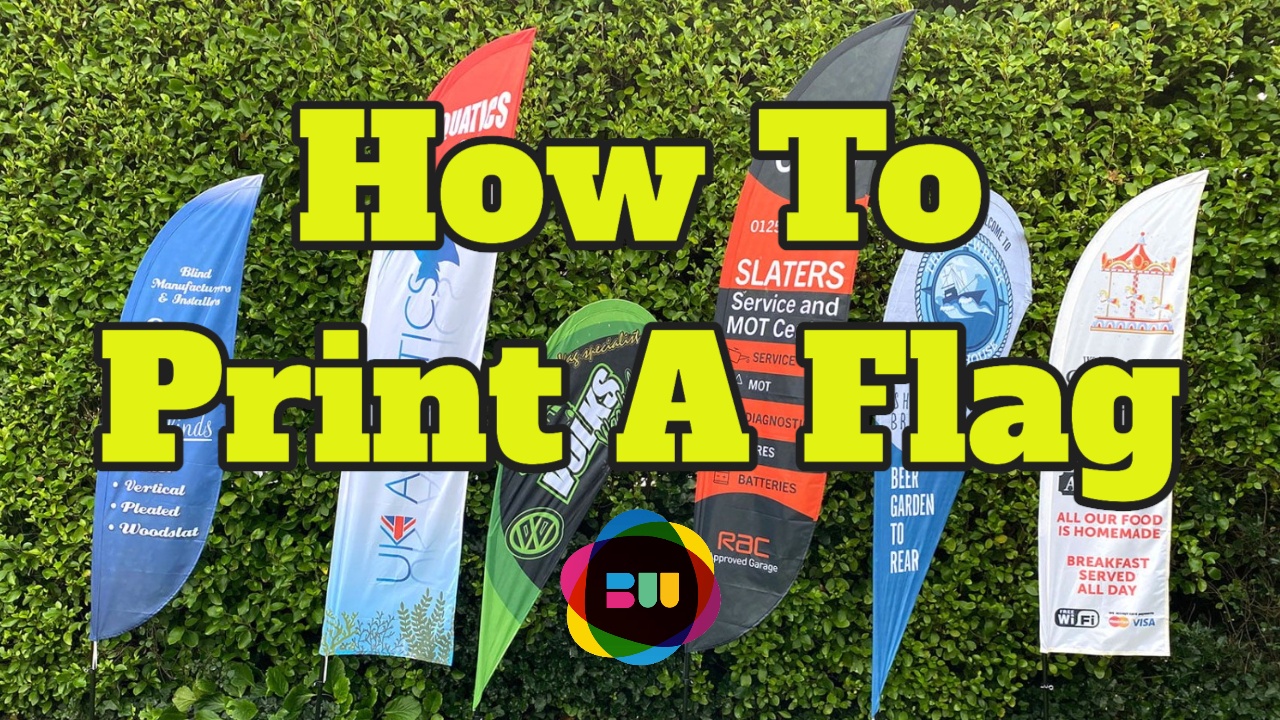 What Is A Flag?
According to Wikipedia, "a flag is a piece of fabric (most often rectangular or quadrilateral) with a distinctive design and colours. It is used as a symbol, a signalling device, or for decoration."
Flags have been used throughout History to mark ships at sea, military regiments, cities and nations. The earliest National Flag still in use today is the flag of Denmark, first used in 1478.
Today Flags are used much more widely, often to promote events, brands and businesses. Sporting flags are hugely popular, particularly here in the UK at football matches. Have you ever wondered where those huge pitch flags are made, or where those fans might have got that funny flag from? Well, you're about to find out!
The most common material for printed flags is a lightweight polyester fabric, similar to that used for Band and Stage Backdrops.
What Are The Different Types of Flag?
Simple Flag – A basic flag is a piece of lightweight fabric with your design printed on it. To keep the material from fraying, the flag is sewn around the edges. To aid in attaching, a basic flag may feature eyelets in the corners or all-around. Flag printing equipment can print on rolls of fabric up to 5 metres wide, so simple flags can be manufactured in any size. Printed panels are sewn together to form large flags.
Our printing method allows us to create ultra-sharp flags that are fade-resistant, colourfast, and waterproof. The 115 knitted polyester is both robust and light, making it ideal for flag printing. We have a number of different finishing options available, which you can see in the second phase of the ordering process.
With a minimum purchase of just one and any size, we can make any style of printed personalised flag. Our flags are printed on 115gsm material with a mirrored image show-through reverse.
Feather Flag – A Feather Flag is composed of the same material as a standard flag, but it has a flexible pole and a base. Feather Flags are used to advertise brands or promotions outside of stores. They stand out with their heights of up to 5 metres!
Banner World creates magnificent personalised feather flags, sail flags, and teardrop banners that may be used both indoors and out. For feather flags of this calibre, our pricing are just unbeatable. Our printed personalised flags are sold to the trade all throughout the United Kingdom and the world. Our Feather Flags start at £52.00 plus the base of your choosing.
Our flags, which are printed using a high-quality dye-sublimation print method, burst with brilliant colour, guaranteeing that they are seen and noticed. Your flag will withstand the weather thanks to its high-quality finishing, which includes reinforcement panels and overlocking stitching.
Banner World are probably the most knowledgeable feather flag printer in the UK, with customer service second to none! Speak to the experts!
Feather Flags are available as single-sided with mirror image on the reverse, or as double-sided. Choose from a range of sizes and shapes to suit your project.
Crowd Surfer Flags – Usually huge, crowd surfer flags are designed to be passed around crowds at stadiums or at events.
On our lightweight, flame-retardant cloth, our regular Crowd Surfer Flags are printed in bright full colour. We make these massive flags in any size, and you've probably seen a couple of them in action at major events across Europe! They're great for reaching out to television viewers and stadium crowds.
Our Crowd Surfing Banners are printed utilising a high-resolution dye-sublimation printing technique. Color and clarity are brilliant and deep on the finished flags. We can print any design onto your bespoke flags since you can use text, graphics, logos, and photographs in your design.
Our crowd surfer flags are printed on 115gsm lightweight and flame-retardant polyester cloth as standard. The fabric is lightweight, making it easy to handle and hold up at your event. The flame-retardant polyester 115gsm material fulfils all UK and EU fire requirements. The printed flag is particularly easy to hold aloft at events and football matches because the polyester material is lightweight.
Festival Flags – These flags have been designed to be flown from tall flagpoles. They give colour and energy to events and are ideal for separating sections, stages, and sectors in crowded locations. Festival Flags are a hit with sponsors and brands. They attract more festival-goers by flying high above their tents and marquees.
All of our flags are made to withstand the elements. We dye the fabric with specific inks. The polyester fabric strands are coloured by the dye. Colours won't run and designs won't fade because the fabric was dyed. Our printed festival flags are a great way to promote your business outside and can be used over and over again.
Our Weatherproof festival flags are completely waterproof and can withstand even the most extreme weather. Festival flags are printed on an unique 115gsm flag cloth and are single-sided. The reverse side is a mirror image of the front. We provide a variety of flag finishing options; simply enter your sizes in the online calculator and choose your desired flag finish in step two. Pole pockets, rope and toggle, Carabina hooks, and a variety of other finishes are available.
Designing A Flag
Flag Size – The most important consideration when designing a flag is its size! The size of a flag is always going to be determined by its location, from where it is to be viewed, and your budget. Thankfully, Banner World makes the budget side of things easy. On any of their flag products, just enter your custom size to obtain an instant price.
How To Design? – Banner World provides customers with a free online design tool that automatically creates a correctly sized template. Onto this blank canvas, you can add backgrounds, logos, images, clip-art, text and photographs.
Design Principles – Flags are mostly used as a form of advertisement and communication. Consider how far away your intended audience will be before displaying content that is difficult to read. If your flag is meant to be seen from afar, the contrast should be great and the typefaces should be readable. If you try to jam too much information onto a flag, the wording may become unreadable!
Using Banner World's Online Design Tool
How to use our online designer
Flags may be designed online using our simple online designer. Fonts, logos, graphics, and background colours are all available. To make your banner even more unique, add photographs and logos.
Easy to use online designer
Our online designer is extremely user-friendly. Unlike Vistaprint and other print-on-demand websites, our online designer is one-of-a-kind. Rather than using a pre-made template, we opted to give our clients complete flexibility, which means you can create your own artwork. So, let's start with creating a flag artwork.
Select your product
You must first choose a product. After you've chosen your product, input the dimensions of your banner and any finishing requirements, such as hems and eyelets, pole pockets, and so on. After you've decided on the size and finish, go to the artwork section and select the 'Design Online' option. To match your size and finish, the Online Designer window will load a new artboard and safe area. Please be patient while the designer loads, which could take up to 30 seconds.
Basic Controls (LHS desktop / Top on Mobile)
Below is a description of the basic controls:
Background colour: Select your desired colour.
Text: Add your text.
Clip art: Choose from our wide range of clip art.
Backgrounds: Choose from our wide range of backgrounds.
Upload: Upload your images and vector logos.
Save: Save, Load, share and Print.
Other controls (Bottom Left)
Undo: Undo a change
Redo: Redo a change
Tools ( Bottom Left)

Align: Align Objects
Above: Move selected object above (Move forward)
Below: Move selected object below (Move behind)
Flip: Flip an item vertically or Horizontally
Copy: Create a copy of an object
Paste: Paste a copied object
Zoom (Bottom Right desktop only)
+ Zoom: Zoom in closer
– Zoom: Zoom out further
Begin your design
You are now ready to create your design. You can now create a simple design and proceed to the checkout within a few minutes. Below are explanations of how all the controls work.

Select Background Colour
Select the paint drop icon and choose from a range of background colours.

Text Tool
Make use of the text tool. Fill in the blanks with the required text. If your text needs to be split across two or more lines, simply hit return after each line. To add text to your design, click the add button. Once the text has been added, you can change it by choosing it. Click the text item on the artboard to choose it. If you want to add another text set, click on the background of the previous text box to unselect it. After the text has been unselected, click the text box and repeat the steps above to add new content.
Select typeface
Using the font options box, choose your typeface. Then, using the checkboxes underneath, select Bold or Italic. Please keep in mind that italic and bold typefaces are only available in a few fonts. Select the font colour and, if necessary, an outline colour using the coloured boxes. The sliding bars can be used to change the letter spacing and line spacing. To add text to a curve, slant, or other effect, use text effects.
Bounding box / Selection tool
The bounding box shown around each object on the canvas is used to control each thing you add to the design. The bounding box will appear when you choose an object. By dragging out the bounding box with the bottom corner arrows, you can change the size of a selected item. The bottom and side arrows lengthen the item, while the bottom corner arrow resizes it to fit the screen. By picking the appropriate icon on the bounding box, you can resize, rotate, stretch, and lock the item. By simply clicking and dragging the bounding box, you can transfer the type to a new location. Also, when clicking and dragging, lines will appear to aid with alignment, making it easier to centre things.

Clip Art
Use the rosette icon if you want to upload clip art. We have thousands of clip art to choose from. Clip-art is not permitted past the safe area for artwork. Some clip art is colorable, which means you can alter it to fit your design. Once you've placed an item on the canvas and it's colorable, you'll see a colour selection box emerge. By clicking the necessary boxes, you can 'Replace Artwork' or 'Add Another.' Simply click the bin symbol on the bounding box if you want to remove a clip art.

Background images
We have a variety of backdrop photos available. Background images may extend beyond the safe zone. Please keep in mind that we only print the artboard area, therefore the faded background visible beyond the safe region will be ignored. If you need to fill the full background with a picture, you can zoom out using the + and – icons in the designer's bottom right corner. The design can then be dragged out to fill the entire canvas.
Upload
You can include photographs, images, and logos in your submission. The following formats are available for upload. JPG, PNG, SVG, EPS, and PDF are the most common image formats. Using the bounding box controls, you can resize and reposition the artwork once it's been uploaded.
Before continuing, you must accept a disclaimer. Every time you upload an image or file, the disclaimer will appear. Please only post photographs that you consider to be of acceptable quality. We cannot be held liable for photographs uploaded to the designer that are of poor quality.
Save Share and Load
To print, save, and reload a saved design, use the save, share, and load buttons. One thing to keep in mind. Because each artboard is unique, you must open a saved design with the same product, size, and finish. If your saved design isn't compatible due to a variation in artboard size, product, or finish, it won't load. We always recommend that you create your design first and then add it to the basket. Once an item is saved in your basket, you can always return and check out later.
Tools
At the bottom left of the page, you'll find the tool controls. You can use this area to align and move things above and below other objects. Items can also be copied and pasted, as well as flipped horizontally and vertically.
Proceed to checkout
Click the 'continue to checkout' button once you're satisfied with your design. After you've clicked, you'll be able to add notes to your order. Please double-check that your artwork is to your liking before proceeding to the checkout; once you've done so, you won't be able to change it. You may now proceed to the checkout page and complete your purchase.
Frequently Asked Questions
Can you print double-sided flags?
Yes, by stitching two flags together and lining them with a blockout liner. Show-through is present on standard flag material, resulting in a mirror copy of the face print on the reverse.
How big can you make a flag?
There's no such thing as a limit. Our printers can print on textiles up to 3.2 metres wide. Flags that are larger are made up of panels that are sewn together.
What finishing can I have on my flag?
The majority of common finishing is included in the price. Traditional rope and toggles, eyelets, pole pockets, velcro loops, ties, and more are all available.
Can you print photos onto a flag?
Yes, we print your artwork in full colour and at a high resolution.
How do I clean my flag?
Flags can be wiped clean with a moist cloth or laundered at 30 degrees in the washing machine.