The video marketing strategy your business needs is determined in large part by your audience. What they need to learn or know about your product or service is what you should focus on first.
Video Marketing Content Strategy
The best way to look at determining your video content strategy is to think about what your customer or potential customer wants and needs to know about what you are offering—tutorials, for example, of how to use your product. Tips and shortcuts are also good ideas to base your content around.
This can fit right in with other content you are planning for your site.
Video Marketing Strategy Examples
Video marketing has finally broken through into the mainstream after years of being seen as an emerging approach. Currently, 81 percent of businesses utilize digital video as a marketing tool, and 99 percent expect to do so in the future. This consolidated popularity, however, does not imply that things have reached their limit; video marketing continues to evolve at a quick pace, with viewer tastes, platform options, and advertising opportunities continually altering. Want some video marketing strategy examples?
Reviews and simple videos of people using, unboxing, or enjoying your product or what it provides (i.e., a trip to the beach because your super cool lawn mower lets someone get the work done in half the time!)
Or you can consider simple product placement as they do on TV and in the movies! These can be fun if you can find some green screen videos, too! Imagine your product in the hands of the first astronaut as he steps onto the surface of the moon, for example!
What Is A Video Marketing Strategy?
So what is a video marketing strategy, and how can you design one for yourself? This will take a little bit of imagination. Stop and think about the stories you wish your customers were telling others about you and your products or services. That's the best way to create your own strategy. Then tell those stories.
The video's purpose is to drive traffic to your website. Always add a link to your main website or a product or service page when publishing a video. The URL can be included in the video itself or in the video description. We recommend that you do both.
Video Marketing SEO Strategies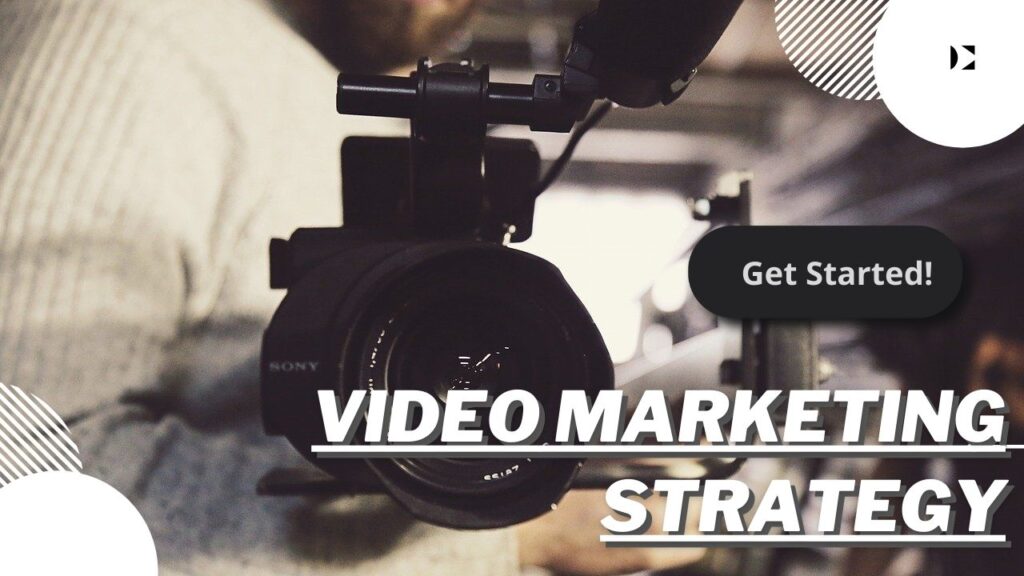 I enjoy discussing the creative process as well as practical video marketing tips. However, a good video marketing plan is more than what you see on the surface. SEO is still quite crucial behind the scenes, whether you like it or not. It's so crucial that I created a video for small companies that demonstrates how to achieve it without a large marketing budget.
Incorporating a link to your website into the video description produces social signals across several platforms and improves your search engine results on Google, Bing Search, and other comparable sites. People may notice that a YouTube channel, Twitter handle, Facebook page, and website are all linked if you put your website URL alongside your video.
You may add a description to any video you submit on YouTube and Facebook. This is also a useful search feature. Try to incorporate keywords in the description, just like you did in the title. However, don't go overboard, and make sure your description tells a story about the video's content rather than being just a list of keywords.
How you may improve an existing video:
Adding a stronger call to action
Sharing it on another platform
Think imaginatively about how you can boost the reach and impact of your video
Sharing your video on a new channel may be beneficial if you want to reach a larger audience. If your click-through rates or conversions are low, try adding an end card with a larger CTA, changing the description, or creating an incentive to click, such as a limited-time discount or a contest.
Facebook Live Video
Facebook Live allows you to stream videos to friends and followers in real-time from your mobile or desktop device. The function, which has a four-hour time restriction, was launched in 2015. Friends and followers may "respond" and submit comments during the broadcast, just like on Instagram, so you can communicate with them. The key to Facebook Live is preparation. You may build a larger audience ready to watch as soon as you click the record button by prepping your audience ahead of time. There are a few strategies that businesses may use to maximize the effectiveness of their Facebook Live advertising.
Video Marketing Benefits
A video marketing plan entails more than merely presenting a video to promote your product. To get the biggest benefit from using video, it's important to properly pick, produce, and place it as a standalone asset or inside current marketing initiatives. But, before we get into how to create a video marketing plan, you need to know what sorts of video material you're employing.
Consumers, particularly Millennials, like video. For a long time, videos have dominated the internet arena. Evolving into one of the most effective means of connecting with and engaging customers, videos are here to stay. To ensure you don't get left behind, you must devise an effective video marketing approach. Video content is useful to learn about a product. Seventy-nine percent of consumers would rather watch a video than read text.
Previously, a video was a method that individuals used in their content marketing on a sporadic basis. However, in order to be effective with video marketing today, you must have a sound strategy in place. Include the following in your video marketing strategy:
Investigating your consumers' aches and pains.
Creating themes that address your customers' issues
Making a framework or script for your video material
Creating a distinct appearance and feel for your branded films
Why Every Business Should Have A Video Marketing Campaign
Want to know why every single business should have a video marketing campaign? Youtube is quite popular. It's a video content library: Every minute, 300 hours of video footage is uploaded to YouTube. It is the second largest search engine. People prefer video content over text. Additionally, it will help with your SEO. It's a win-win.
Video Marketing – How To Start
There are so many paid and free programs available to create videos these days. Some are standalone software you install on your computer, and others work on your phone or online.
Apple's video editing program is called iMovie. iMovie, which is compatible with Mac and other iOS devices, is simple, easy to use, and free for all Apple products. iMovie allows you to produce and edit videos by editing clips, adding titles, music, sound effects, basic color correction, filters, and special effects, among other things. The application even provides helpful templates to make the editing process easier. The software supports high-quality footage, such as 4K movies, and allows you to easily post your work to a video hosting site. Professionals don't usually use it because of the restricted access to advanced color correction and editing tools, but it's still an excellent alternative if you're just starting out.
You may believe that understanding the intricacies of video marketing necessitates a college degree. You don't have to use the fanciest or most expensive video creator. Many online video creation sites provide a selection of templates that can be customized to fit any company. They are so easy to use that anyone can do it. Simply select clips from the library of live-action and animation scenarios (or upload your own), change the text, and submit your logo to be done in the time it takes to make your bed (provided you don't take too long).
With your free video creation account, you can access a massive library of ready-to-use templates built by a team of marketing specialists that have analyzed hundreds of marketing films and know how to sell. They have you covered no matter what business you're in. All you need to do is input your content, add appropriate photos from our library, and include your logo, and you're done. The most difficult element will be convincing others that you created such a high-quality film on your own.
There are a plethora of low-cost tools available for generating and editing videos. Here are two popular favorites. Adobe Spark is a free tool for creating and sharing visual content such as social network posts, graphics, web stories, and animated films on the web and mobile. Biteable is a desktop application that bills itself as "The world's simplest movie producer."
The key to making a great internet marketing video is to make it entertaining. It's all about making something intriguing and sharing. Boring videos have been buried. People enjoy activities that allow them to forget about their everyday troubles and routines. Look for stories with a sense of humor and inspiration. The other part of generating a fantastic video can come from templates: captivating graphics and layouts that are particularly intended for your needs: explainer films, internal communication videos, corporate presentations, Instagram video stories, and much more.